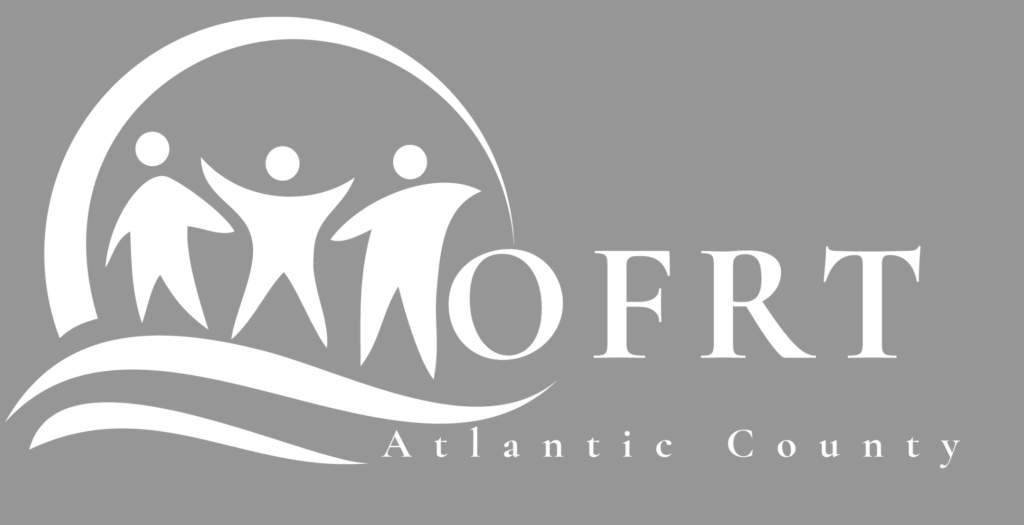 Our Nation's Opioid Epidemic continues to take lives everyday. In a 12-month period ending in April 2021, 100,000 Americans lost their lives to overdoses. In that same year, 3,081 New Jersey residents died from suspected drug overdoses and in Atlantic County, 188 lives were lost.
The mission of the Atlantic County OFRT is to prevent future deaths from drug overdose, through a process of reviewing overdose fatalities to identify gaps in public systems and social services that might have made a difference. Our goal is to reduce overdose fatalities through targeted prevention, intervention, treatment, and recovery strategies and programs.
The opioid crisis cuts across every segment of society, without regard to class, race, gender, or profession. Nearly 75% of the drug overdose deaths in 2020 involved an opioid. Other drugs are often involved; including alcohol, methamphetamine, and fentanyl. Fentanyl is a growing problem and found in a high percentage of all non-prescription drugs.
The OFRT conducts "social autopsies" of those lost to an overdose. Decedents' lives are strategically reviewed, from potential childhood trauma, to onset of use, to attempts at recovery and ultimately, what led to their deaths. The team honors these lives so that someone else doesn't have to go through the same challenges. The team examines these cases to gather data to learn how the services for Substance Use Disorder can be improved. The team makes recommendations to improve this system and works to implement these suggestions.
---
Sober Living and Oxford House Directory

The directory found below contains information about every sober living house and Oxford House in Atlantic County.
A sober living house refers to group residences for people that are recovering from addiction. The residents agree to remain sober while living in the house.
An Oxford Living House is a self-run, self-supported group house for those recovering from a substance use disorder.
---
Grief and Trauma Resources
Alcove Center for Grieving Children and Families
https://thealcove.org/griefprograms/programs/
319 E Jimmie Leeds Road
Suite 205 Galloway NJ 08205
609-484-1133
Family Bereavement Groups – The Alcove offers activity-based peer support groups for children, teens and adult caregivers who are grieving the death of a loved one. Children receive care and support in a safe environment where they can express themselves through play, art, storytelling and music.
Groups for five age groups are offered: Ages 3-6; Ages 7-10; Ages 11-14; Ages 15-18 and Adult Groups.
Andy's Glow Foundation
Meets on the second Thursday of every month at 6pm
Ventnor Library
2nd Floor
6500 Atlantic Avenue
Ventnor, NJ 08406
Kathy Rivero-Robinson; 609-453-7114 or Andysglowinc@yahoo.com
We are committed to helping and supporting individuals, families, and communities dealing with the loss of their loved ones who have passed due to substance abuse, alcoholism and suicide, all are welcome. We also do one on one support. We are a nonprofit foundation; our grief groups are free.
Compassionate Friends
2nd Wednesday of each month at 7:30 pm
Grace Lutheran Church
11 East Dawes Avenue
Somers Point New Jersey 08244-2714
Terri (609) 412-4907
If you are a member (or a friend) of a family that has suffered the death of a child, The Compassionate Friends is here to help you and provide support for the family. This group is not specific for families who have lost someone to an overdose.
GriefShare
Monday, April 24, 2023 • 6:30 pm – 8:30 pm
Beacon Evangelical Free Church
420 S 6th Ave, Galloway, NJ 08201
Tamu Whitfield, Facilitator
609-214-339
GriefShare is a bible-based support group is a safe, welcoming place where people understand the difficult emotions of grief. Through this 13-week group, you'll discover what to expect in the days ahead and what's "normal" in grief. You'll receive valuable guidance and tips, leading you to relief, comfort, and peace of mind. This group is not specific for families who have lost someone to an overdose.
Partnership to End Addiction
Online Community Grief and Loss Support Group – 4th Tuesday of the Month 1pm-2pm EST / 10am-11am PST
Knowing that every grief journey is different, the Partnership holds space for parents and other caregivers who have lost children of any age to substance use. Join our peer parent coach facilitators who have also lost children to substance use. They offer grief resources, education, support and hope for healing. Register to join us.
https://drugfree.org/article/grief-resources-for-families/#Support%20groups
Herren Project Grief Support Groups
https://herrenproject.org/grief-support-group/
Herren Project's addiction grief support group is for individuals grieving from losing a loved one to drug addiction, alcoholism, or a drug overdose.
This group is open to:
● parents who have lost a child
● children who have lost a parent
● brothers and sisters who have lost a sibling
● spouses who have lost a partner
● individuals who have lost a friend
The grief addiction support group provides a safe place to share experiences about the impact of losing someone to an overdose death or drug and alcohol-related death. All groups are led by licensed clinicians or social workers who specialize in grief counseling. All groups meet on EST and are free.
Mondays: 8:00pm
Tuesdays: 6:30pm | 8:00pm
Wednesdays: 7:00pm | 8:00pm
---
Members of the OFRT
AtlantiCare Regional Medical Center
Atlantic City Department of Health and Human Services
Atlantic City Rescue Mission
Atlantic County Department of Human Services/Division of Public Health
Atlantic County Justice Facility
Atlantic County Prosecutor's Office
Atlantic County Sheriff's Office – Hope One
Atlantic Prevention Resources
Bunting Family Pharmacy
Egg Harbor Township Police Department
Galloway Township EMS
Helping Hand Behavior Health
John Brooks Recovery Center
New Jersey Office of the Chief State Medical Examiner
NJ Department of Children and Family Services/Division of Child Protection and Permanency
Spanish Community Center
Superior Court of New Jersey Criminal Division, Vicinage 1
Recovery Centers of America
SJ AIDS Alliance
Shore Medical Center